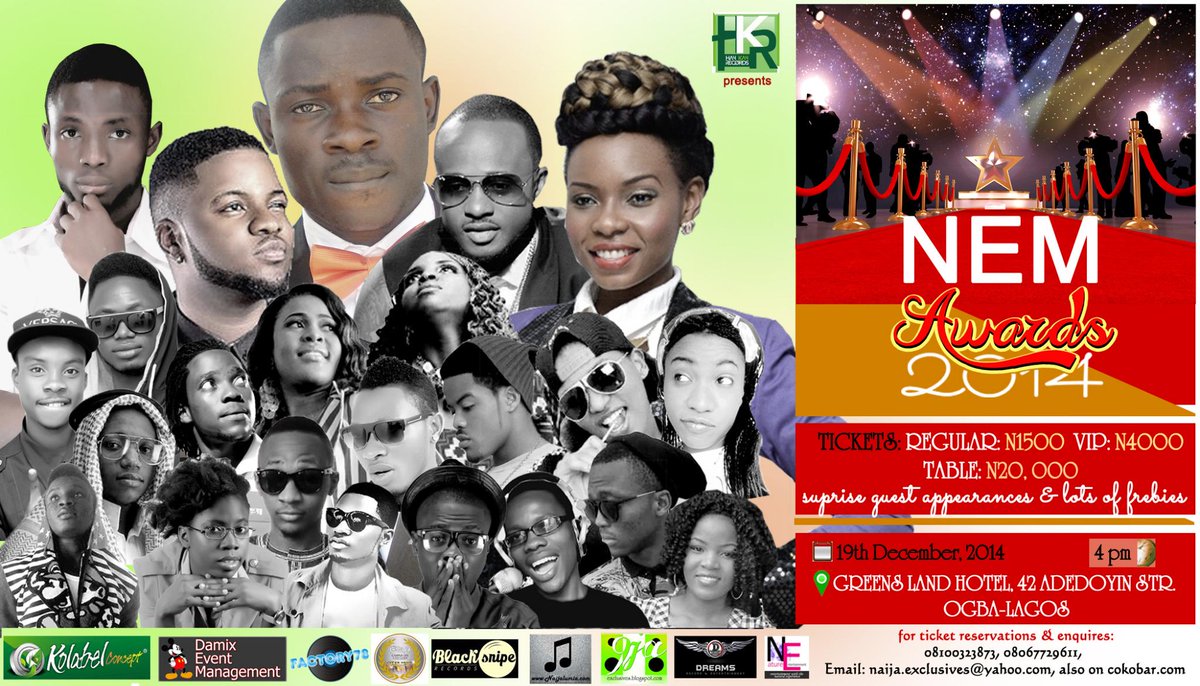 Based on the success of the past edition of the Naija Exclusive Music Awards
(NemAwards2014) which was held in Lagos, we wish to invite you to be part of the history by becoming a sponsor/ Partner of the upcoming edition of the NemAwards 2015 which is coming up soon. The event is to be organised annually and its aimed at appreciating underground and rising acts in Nigeria.
Sponsorship is a great way of reaching people working in the sector as well as the wider entertainment business community right across the Nation. The initiative will be publicized regularly in the region and in trade publications further afield and the awards generated more than two million opportunities to see across the regional press, and in addition received television and radio coverage.
That's why we pay very close attention to
making sponsorship good value for all of our supporters. A principal benefit is that it associates your organization with an event that is successful, creative, dynamic, well established and greatly respected.
Highlights of the awards will be streamed on our website and direct links to the material can be provided for use on our sponsors' websites.
You can make your sponsorship in cash and in kind(publication, advertisement, provision of needed materials etc) by either being the headline sponsor, category sponsor or a supporter.
You can also take advantage of the captive media and new media audience by advertising in our awards brochure and on our website.
The brochure is distributed to everyone who attends the gala dinner, and to VIPs after the event.
We have a range of Event sponsorship
packages available which offer sponsors a
variety of branding opportunities throughout the project promotional schedule as well as in the awards brochure, on the website and at the event itself.
HELP YOUR BRAND! GET CONNECTED TO GREAT NemAwards 2015 !!! BECOME A
SPONSOR!!!
Mail us
naija.exclusives@yahoo.com or Call
08100323873
Twitter : @nemawards
Facebook: Naija Exclusives Music Awards
#NemAwards is proudly supported Damix Events,Iplayhits, 9jaexclusives and Haykay Rekordz.
Posted by IplayHits Boss.
Posted by IplayHits Boss.
Posted by IplayHits Boss.